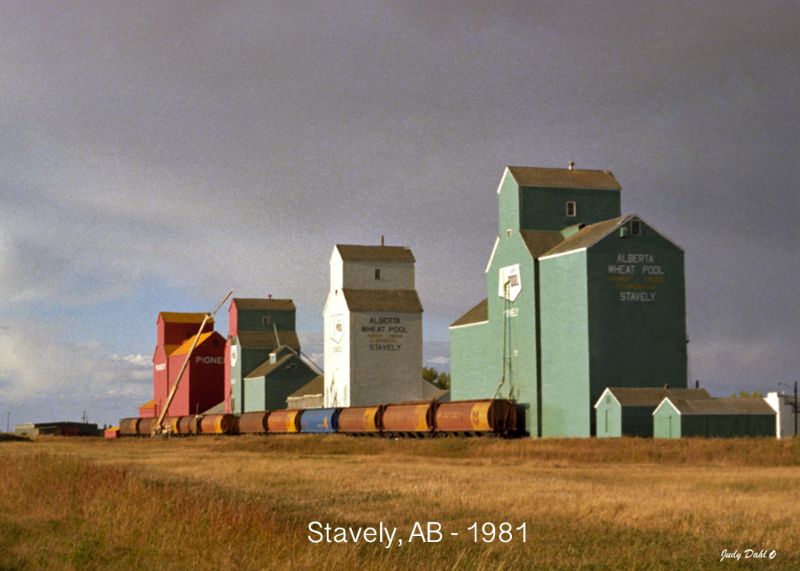 A once familiar sight on the horizon on the prairies has now almost become extinct, the grain elevators.  There once stood six giants in a row in the town of Claresholm but by Dec 6, 2000, there was nothing left but the railroad tracks.  Most of the grain stored was shipped to market by rail.  The last train went through Claresholm on February 25, 1999.  The newest elevator, the United Grain Growers elevator at the south end of town was the last to go down December 6, 2000.  The demolition crew worked long and hard to accomplish their job.  I have seen some elevators give in and fall quickly.  Not this one; it was not going without a fight.  When it finally fell all that was left was a huge cloud of dust and a mountain of rubble.
Watching the U.G.G. being demolished was difficult for me. One of my first jobs when I got out of college was a secretarial position in their main office in downtown Calgary.
This is not an unfamiliar story.  Most prairie town and cities have lost their elevators.  Fires account for some of the losses, but wrecking crews demolish most of these structures.
In the 1982 Granum, AB. lost one of their elevators to fire.  It was replaced by an elevator that was moved from Stavely, AB. as they were in the process preparing to tear theirs down.  That elevator  also burned to the ground.  The closeup photo of the Granum Alberta Wheat Pool  engulfed in fire was taken by Taco Hansma Several "Save the Elevators societies were Several "Save the Elevators" societies had formed across the province.  They consist of people volunteering and working together, raising money to purchase and preserve the disappearing structures.  The High River, AB. Historical Preservation Society reached their goal, only to see their elevator burn down May 26, 2003.  One very avid enthusiast spent a week residing atop this building in order to gain awareness and raise money for the causeThe town of Nanton, AB has so far been able to save two of their grain elevators.  Again, it is only through the generosity of many individuals donating their time and money that they still stand at this time.
My travels through Alberta as a professional equine photographer afforded me the opportunity to capture many different elevator rows in towns and villages throughout this province. I treasure my images and hope that there will be some of these massive structures left on the horizon for future generations to enjoy.
All photos were taken by me – except the 1982 Granum fire. Photo credit for that photo is for Taco Hansma.